And We Have Winners!
Thank you so much to everyone who participated in our fanfiction awards this year! We had 31 people who voted in round 1 and 43 who voted in round 2! I hope this shows everyone that people care about Burn Notice fanfiction, so authors...get crackin'! Hopefully the new episodes starting tomorrow will bring lots of little plot bunnies your way. I look forwards to the new season and some new fic. :)
I think everyone will agree that we had some amazing stories nominated this year, and there's more out there too! I wish I could give everyone a prize, but alas, I can't.
In the Romance (Het) category: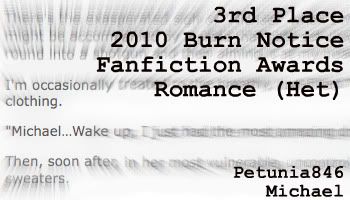 Honorable Mentions go to "Did You Miss Me?" by me, "Back to Before" by FiRocks, "Burn Notice: Heatwave" by LillyHobbs, and "Michael and Fiona Fall in Love" by A.B. Allaway.
In the Romance (Slash) category: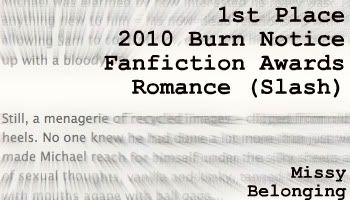 Honorable Mentions go to "Better Without Them" by Missy and "The Best Spies" by Daria234.
In the General/Other category:
(We had a tie for 2nd in this category...)
Honorable Mentions go to "Not a Good Time" by yesimadramaqueen, "Drawing Out the Darkness" by SaoirseConnelly, "Monsters" by BriarElwood, and "Semper Fi" by Bec Le.
Authors feel free, obviously, to snag your little banners to post around the interwebs where ever you desire. I hope you like them.
Thank you again for the fun times guys! Thank you to our writers and actors who inspire us, thank you to everyone who writes, thank you to everyone who betas, and thank you to everyone who reads and reviews!
Maybe we can do this again next year?