Welcome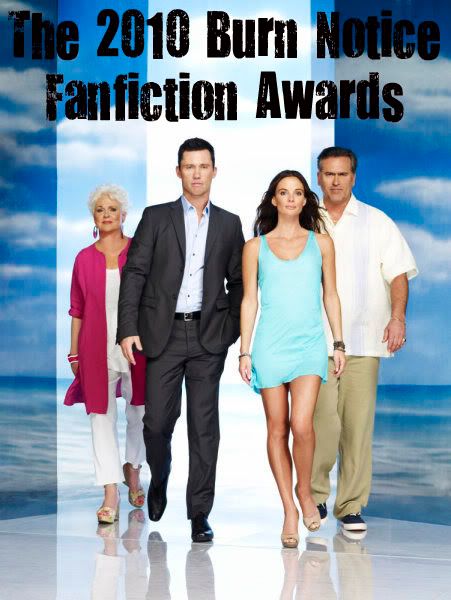 In honor of the start of Season 4 (June 3rd!) and in order to promote and encourage Burn Notice fanfiction I am hosting the first ever (to my knowledge) Burn Notice FanFiction awards!
Categories
:
Since Burn Notice is a small fandom we will only have a few categories:
Romance (Het)
- ex: Michael/Fiona, Sam/Veronica, Fiona/Campbell, and so on
Romance (Slash)
- ex: Michael/Sam, Michael/Victor, and so on
General/Other
- anything non-shippery
Awards Timeline
:
Nominations
-
Wednesday, May 26th-Friday, May 28th (at midnight EST)
Round 1 (vote from all nominations)
-
Saturday, May 29th-Sun, May 30th (at midnight EST)
Round 2 (vote from the top stories in each category based on R1 voting) )
-
Monday, May 31st-Wednesday, June 2nd (at midnight EST)
Winners Announced
-
June 3rd
***If we're still getting a steady stream of nominations on Friday I am willing to extend the deadlines. We wouldn't have awards by the premier date, but that's okay if it means more participation. I didn't want to leave it open for too long and then have people procrastinate and forget about it. I know that's what I tend to do. ;)
The Rules for Nomination
:
-You MAY nominate as many stories as your heart desires.
-You MAY nominate your own story.
-You MAY nominate a work in progress.
-You MAY nominate work from any site on the Internet.
-You MAY nominate work of any rating.
-You MAY nominate any Burn Notice story ever written...there is no time frame.
-You May nominate crossovers but there will not be a separate category for them.
-There is NO minimum or maximum word count for stories you nominate.
-A story only needs to be nominated one time to make it to Round 1, therefore, you do not need to post a new comment to nominate something that has already been nominated (but you MAY do that if you would like to).
-The point of this contest is to promote and celebrate Burn Notice fanfiction, therefore, spam or mean-spirited comments will be deleted at my discretion.
-If there is disagreement over which category a story should be nominated for I will first attempt to contact the author and let them choose the category. If I cannot reach the author I will make the final decision.
-You MAY post a link to this post/community wherever you choose. In fact, PLEASE share this with as many people as possible (respectfully) so that we can get as much participation as possible.
Directions for Making a Nomination
:
Please post a comment below. Comments are NOT screened. You do not need to have a livejournal account to leave a comment.
Please post nomination comments in the following format
-
Title, Author, Category for Nomination (please choose only one category), Link to Story
Look for a new entry here Saturday morning with a link to the official survey for Round 1 voting! Thanks and have fun!